FAB Conference on the difference between Flanders and Wallonia in fundraising and donor behaviour
During this conference we will listen to fundraisers and experts bringing a case about their experience and knowledge about the difference between Flanders and Wallonia in organisation culture, fundraising and donor behaviour.
More information about the speakers and their cases will be posted as soon as possible.
Speaker 1
Fundraising Communication differs between Flanders and Wallonia: is the difference in the sender or in the receiver?

Jeroen Janssens will start his presentation based on this question. He is account manager at Direct Result, a company that helps organisations build out strategy, campaigns, street marketing, door-to-door recruitment and event recruitment.
Speaker 2
About generosity in Flanders and in Wallonia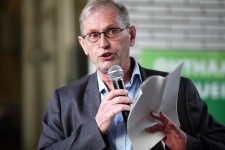 Flanders and Wallonia are distinct regions, largely similar, with two communities that sometimes differ fundamentally from each other from an economic, political and sociocultural point of view. Not surprisingly, donors, donation behaviour and generosity do not always have the same characteristics.
Erik Todts was professionally active in communication and fundraising at the Damiaanactie, Oxfam Solidariteit en Consortium 12-12. Since 1996 he has been involved in VEF (Association for Ethics in Fundraising), which gives him a priviliged view of the entire sector in our country. Based on his 40 years of experience across the linguistic border and supported by statistical data, he will sketch a number of striking as

Speaker 3
Organisation cultural differences between Flanders and Wallonia

Patrick Marck, director of FeWeb, the Federation of Web companies in Belgium, will talk about his view on organisation cultural differences between Flanders an Wallonia. Followed by an open discussion on this topic.

Practical information:

Date : April 25th 2019, 9.00 to 12.30
Location: 11.11.11 Brussel, Zaal Porto Alegra , Vlasfabriekstraat 11, 1060 Brussels
Language: Dutch/ French (slides in English)
Price: for free for members/ 150€ for non-members
Any questions? Please e-mail fab@2mpact.be.