22 June 2020
On June 17th FAB had a meeting with all her partners, the Friends of the FAB. We discussed how they experienced the last few months, what obstacles they encountered and what opportunities they see to work towards more empowerment of fundraisers in Belgium together with the Fundraisers Alliance Belgium.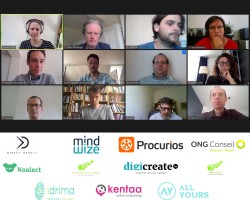 The FAB partners have all dealt with some challenges during the last few months of Coronacrisis, for some of them their activities fell back to almost zero activity, for others these times have been extremely busy.

Here are some of the challenges they defined:
Almost for every partner some clientleads have been put on hold or maybe even stopped due to the financial situation of many fundraising organisations.
The human aspect was and still is one of the main challenges for the Friends of the FAB. Having to put employees in temporary employment is hard. And even now not everyone can return to work and for example in the Face-2-Face Fundraising the companies have to make a selection out of their recruiters. Also keeping the recruiters motivated and informed is now a challenge for these companies.
The switch to working digitally and 'at a distance' with colleagues as well as with clients takes a lot of (re)searchwork.
The stop of all face-2-face fundraising and the search for alternatives to offer to clients (f.e. switch from face-2-face to telemarketing).
The main concern now is the safe restart of the Face-2-Face Fundraising for these companies.
The partners that are specialised in online fundraising, telemarketing and direct mail noticed an extra workload. Many organisations wanted to switch to a new type of fundraising in a fast and efficient way, which meant that the partners had to be able to adapt quickly.
All FAB partners agreed that, together with the FAB, they want to work together to further empower Belgian fundraisers! Many opportunities were discussed to further explore together. To be continued.

Some key terms to remember are: transparency, openness, knowledge, experiences, best and worst cases, cooperation, research, benchmarks, …

Big thanks to all of our FAB Friends! All Yours, Direct Result, Direct Social Communications (with Direct Phone, Digicreate and Idrima), Kentaa, Koalect, Mindwize, ONG Conseil en Procurios!