25 May 2021
Elke Saron works as a full-time fundraiser for MS-Liga Vlaanderen. In June 2020, Elke graduated with a Master's degree in Business Economics. She immediately got the chance to start as a junior fundraiser at MS-Liga Vlaanderen. She strongly believes in creating a supporter base that both creates awareness and offers financial support.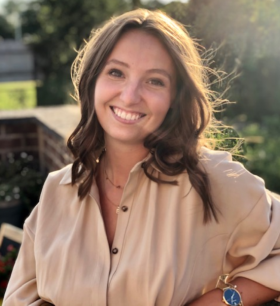 Elke has a very personal motivation to work for MS-Liga Vlaanderen. "As my dad was diagnosed with MS at a very young age, I have always been involved with this disease and MS-Liga Vlaanderen. Every day, I feel driven to help people with MS. In my job, I try to do this by supporting the organisation both financially and professionaly", Elke explains.
MS-Liga Vlaanderen is a patient organisation that aims to promote the general wellbeing of people with MS, their families and their environment. Elke Saron: "We work with a unique combination of professionals and volunteers and we want to grow into a full partner organisation in the chronic care of tomorrow. As a fundraiser my aim is to raise money so that our organisation can continue to operate and provide services on a structural basis. When I hear from my colleagues, the social workers, that they have been able to help, guide and/or support a person with MS through their services, I am reminded why I love my job so much. This positive feedback from the people we support is enormously satisfying."
Fundraising actions by individuals
"I strongly believe in letting individuals start up their own fundraising actions. The people who choose to start an action for the benefit of MS-Liga Vlaanderen, are people who are closely involved with the organisation and have an enormous personal drive to make a difference. It is by supporting and guiding these people that our organisation becomes stronger. In this way, we create a supporter base which can both create awareness for MS and offer us financial support. We value both of these things highly as an organisation."
Fundraising events and initiatives organised by MS Liga Vlaanderen volunteers have not been possible this spring. "We also remain uncertain whether our September campaign will receive the green light from the government. We are switching to small-scale initiatives set up by individuals who do this from a strong motivation. During this campaign we sell Jules Destrooper biscuits and Galler Chocolate. We are lucky that our volunteers want to do their bit for the sales to individuals and companies. We are also planning a running event in later autumn."
"As an organisation, we can still grow enormously in terms of digitalisation. Our lack of experience in that area is somewhat an obstacle in my job right now. If we can actively respond to this, my job as a fundraiser will be optimised."
"Is this what we stand for as organisation?"
'I believe as a fundraiser it is important to never lose sight of the ethical aspect of our job. A fundraiser has to find a good balance between raising money and keeping the organisation's goal in mind. You always have to bear in mind: 'Is this what we, as an organisation, stand for?', Elke explains.
"I personally find the Warmste Winter Challenge, an initiative of De Dodentocht vzw, a very inspiring campaign. During this challenge, you could walk a minimum of 100 kilometres from 1 January 2021 to 31 March 2021. So you can set your own personal goal: how many kilometres are you going to walk in 3 months, with a minimum of 100 kilometres. In my opinion, this campaign is a good success because you link personal exercise (working on yourself) to supporting a good cause. Especially in times of corona, this is a good initiative, since more and more people are walking and/or running and you can do it in your own bubble. Some sympathisers of our organisation have also taken part. The good thing about this campaign is that everyone can participate at their own pace. No one is excluded. You could choose to walk for one specific charity or have your participation fee put into the big pot (that was divided amongst the participating charities). Good causes could register to let the walkers support them. I strongly believe in these kind of umbrella campaigns. In my opinion, these campaigns have a great impact because one non-profit does not exclude the other. Not every non-profit has the resources to offer for example a sports platform. This way, these non-profit organisations can also compete on a digital level."
Asked about the value of an organisation like FAB Elke answers: "When I started my career as a fundraiser, I immediately joined the FAB. They offer a great range of webinars and trainings for every fundraiser (from junior to senior). They also involve the necessary external experts to be able to transfer sufficient knowledge to their members."



MS-Liga Vlaanderen is a patient organisation that aims to promote the general wellbeing of people with MS, their families and their environment. Multiple Sclerosis (MS) is a chronic disease of the central nervous system. Symptoms manifest differently in each person with MS, which is why it is also known as the disease with a thousand faces.