24 August 2021
Kentaa, partner of the FAB, is a social enterprise specialized in smart, white-labelled online platforms for crowdfunding, event fundraising and peer-to-peer fundraising. They offer packages for charities, large and small. Their aim is to offer their clients tailor-made solutions based on a standard product. Marc Schoutens is managing director of Kentaa.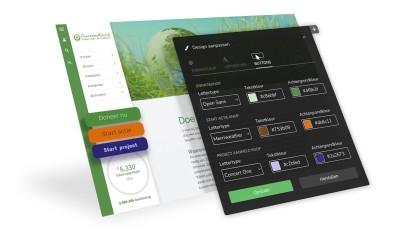 Kentaa added some extra functionalities and features lately. These features aim to provide more flexibility for clients and offer tools for more successful fundraising. To the first goal, Kentaa recently launched a front-end design editor that allows their customers to easily change colours, fonts and buttons on their website. "Changes are visible in real time. With this editor, the Kentaa website will be adjusted in no time", Marc Schoutens adds.
Kentaa has also added tooling for more engaging fundraising: "The matchfunding functionality is used to give meaning to the collaboration between charities and companies and to make donating and raising money more attractive. This allows a charity to have organisations make a financial contribution to a (crowdfunding) campaign. With the donation multiplier, a company can for example double a donation. An extra motivation for the giver. In the donation counter, the matched amount is visible, which offers the company a nice visibility", Marc explains.
"The other variant of matchfunding that we offer is a so-called start-donation. A company can then make an initial donation to each person who comes into action (starts a fundraiser) for the good cause. Monetary limits can be set for both options. In this way, the company concerned indicates exactly what it wants to give."
"We have also invested heavily in expanding functionality for fundraising events. This development was accelerated by the corona crisis. With the rise of virtual events and challenges, there was a greater need to enhance the experience, even if people could not get together. Among other things, we built a achievement tracker' that allows event participants to link their mileage to their fundraising page. For an event, they can then set a mileage goal and work towards it. We linked the achievement tracker to sports app Strava. This allows mileage and routes to be automatically logged and displayed with an image of the route. It is not only fun for the participant to keep track of his/her mileage, but it is also a reason for donors to donate extra for certain achievements."
Successes with crowdfunding and event fundraising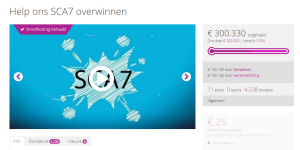 Marc: "This past year we are particularly proud of the 'Together for the Brain' platform (Samen voor de Hersenen) of the Dutch Brain Foundation (Hersenstichting), which funded important medical research through crowdfunding this year. Match funding was also used. In this case the Brain Foundation itself doubled each donation. In 4 months 300,000 euro was raised with the help of more than 2.000 people."
"The Legacy 14K run 2021 of the Johan Cruyff Foundation was a very successful virtual event with a revenue of €112,704. Matchfunding was used in the form of a starting donation to the participants from the main sponsors of the event (over € 21,000 was matchfunded). For the event, we linked up with eRoutes, an app that allows participants to generate a route starting from their own location. During the route, participants received media messages from the Cruyff Foundation and passed virtual checkpoints. There was also a special radio broadcast. This made it an event full of experiences."
"A crisis necessitates creative thinking and often leads to an acceleration of innovation."
"The past year was an intense year and also quite exciting and hard work. The period after the Covid pandemic was characterised by 'flip-thinking' and 'changing gears quickly'. But in the end it was certainly positive. We mainly saw a shift to other branches of fundraising. Because of the Covid crisis, fundraising events were cancelled or postponed. But there was no let-up. New virtual events were created and door-to-door collections were done online instead. Crowdfunding was also used to raise a lot of money for corona research, which is, of course, very nice. So online fundraising actually got a boost. A crisis necessitates creative thinking and often leads to an acceleration of innovation", Marc explains.
People give to people
"Virtual events flourished during the Covid crisis and will continue to play a role. We expect a lot of hybrid events, which combine the best of both worlds. This makes events more flexible and accessible to participants. Moreover, charities can also appeal to new target groups, because for a virtual event, location is no longer an obstacle. Besides the growth of hybrid elements, crowdfunding will continue to grow, as will the shift from offline to online fundraising."
Marc: "People tend to give more ad hoc than before and to specific projects. Moreover, people tend to give to people. For fundraising organisations it is therefore important to offer the donor these options and to make the spending of the donations transparent. People don't commit to a single organisation as easily as they have done before, but they do give to causes - and people - they care about."