27 October 2021
Frédérique de Keyser is the coördinator at the Hasselt University Fund and Alumni Office since December 2020. The funds Hasselt University Fund raises are used to finance research, education and patrimony. The University Fund and Alumni Office was running at a low level before. But the board of Hasselt University really recognizes the importance of fundraising for its operations and further development. So the Fund is having a reboot.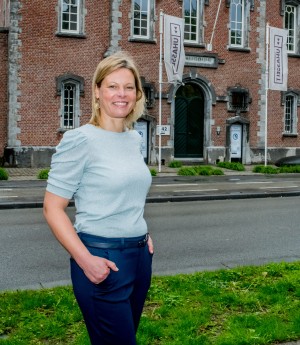 "The University Fund includes all extra income outside the regular financing for the university. This extra income is used to finance research, education and patrimony. The research is primarily fundamental scientific research. Funding for education also includes, for example, the welfare of our students, something that is very close to our hearts. We raise for funds for students who are struggling financially also. This way we try to give our students that extra push that will make the difference later on in their professional lives", Frédérique explains.
"As far as patrimony is concerned, we use funds to purchase and/or renew new infrastructure (research equipment) such as our recently inaugurated Science Tower on the Diepenbeek campus, but we also contribute to the preservation and renovation of our cultural patrimony. A university is a public institution and thus contributes in various ways to a better society in the short, medium and long term."
Frédérique started just recently in fundraising. 70 to 80% of her time goes to the University Fund, but not only to fundraising. "It is fascinating pioneering work: What is there? Who do we know? Where do we want to go? How are we going to that? Me and my colleague are now giving ourselves the time to set up a good basis and build on that. We do this parallel to Alumni Office and in different projects at different speeds. Quite a challenge, but a fun one!" A challenge, especially because Frédérique has no previous experience in fundraising. "I do not have much experience in fundraising from private donors but I have a sales background in the private sector. In my previous job, I was responsible for the funding of national and international medical congresses. My contacts for that funding were in national and international pharma and we worked with them to build sustainable strategic partnerships. In that respect, there are many similarities."
One thing is for certain: "Storytelling of scientific research with demonstrable impact and the 'warm university' we stand for will play a crucial role in our fundraising."
Belief and recognition of fundraising by rector and board
Frédérique's driving force to do this job? "There are many. Putting the Hasselt University Fund on the map as a charity, which is not so obvious because a university as a charity is not so well known to the general public. Developing the Hasselt University Fund as a brand. Showing the importance of fundamental scientific research; putting top research that is done at Hasselt University in the spotlight and highlighting its social importance in the short and long term. Guide donors in their search for research they feel connected with, of which they experience that their money is well invested in a fund, in a chair or in a project. We want to share and experience the impact of donations within research together with our donors. And last but not least: the fact that our rector and board of Hasselt University believe in and recognise fundraising. That also gives support and recognition to all our donors and potential donors."
"Many people are unfamiliar with universities as charities. The not immediately visible results of fundamental research versus applied research make it challenging. As does the insufficient awareness of the nationally and internationally renowned research that takes place at Hasselt University", Frédérique explains.
A job in which the magic happens
Frédérique gets a lot of joy from her job. "Not a single day looks the same as the previous one. You have to love it to last! And I love it! I never thought that I would be helping and guiding our students of the Oscar Qube Team in their search for funding for their quantum magnetometer that is now on the ISS, and I want to motivate all Hasselt University students with this: "If you can dream it, you can do it"! Or the interest of large multinationals in our Ecotron that still offers so many possibilities in the field of research on climate change and biodiversity. Yes, I really have a job in which the magic happens."
Corona raised awareness of the importance of scientific research
"The Corona crisis brought healthcare and medicine into the spotlight. The importance of scientific research gained further ground because it affects us all, makes society evolve and everyone could experience the impact that Corona has accelerated." Frédérique hopes they can ride the waves of awareness for a long time to come.
"Prof. Geert Molenberghs and Prof. Niel Hens were already leading groundbreaking and internationally renowned research and work within Data Science Institute before the Corona crisis, but have now come forward and been in the media, resulting in more visibility for their research and for Hasselt University."
During the Corona Crisis Hasselt University also closely monitored the welfare of her students. "We still do so. Despite its nasty consequences, Corona has also brought up positive things that we will continue to hold on to."
Frédérique has been member of the FAB for some months now. "To me FAB is a valuable organisation for both experienced and certainly less experienced colleagues. It offers not only a platform for knowledge sharing by experts, but also room for dialogue and networking. I am glad that I am a member and I am convinced that I can gain a lot of knowledge thanks to FAB or that I can ask for advice."
Hasselt University Fund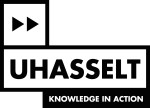 The Hasselt University Fund puts maximum effort into attracting additional funding for education, research and infrastructure. Their priorities are 'More opportunities for young talent'.
https://www.uhasselt.be/Universiteitsfonds