25 May 2022
Katrien Liebaut is responsible for relationships with the individual donors at WSM, We Social Movements (Wereldsolidariteit/ Solidarité Mondiale before). She has been working in fundraising for the organisation since 2013. It is of the utmost importance to her to be transparant, to share successes, but also setbacks with donors and supporters.
WSM, We Social Movements, works together with more than 80 social movements in over 20 countries in Africa, Asia and Latin America: trade unions, health organisations, micro-credit institutions, women's, youth and elderly organisations. "They stand up for decent work and social protection and fight poverty and exclusion. Social movements are a lever for social change. WSM realises that change takes time and is the result of sustained effort, in an often very complex context. It is precisely for this reason that our organisation chooses to build long-term partnerships (over decades). That is why we need the support of many donors.
Katrien is responsible for relationships with the individual donors and had no prior experience in fundraising. "I use a magazine to inform them of what happens with their donation. I try to share as many concrete stories with them as possible: about the work of the social movements we work with, about the people they work for and about the change we want to see. In this way, I hope to convince them to renew their donation or make a lasting financial commitment. I try to give new donors the best possible welcome and to show loyal donors how important their long-term support is to us. Most of my time is spent maintaining these contacts, editing the magazine, developing tools that make it easier to make a donation or collect sponsorship money and writing subsidy applications that we submit to bodies that want to release a budget for our organisation", Katrien explains. "For example together with a web developer I developed our campaign website (https://acties.wsm.be). On this website WSM fans can create their own campaign and raise money very easily. And for people who do not want a tax certificate and want to make their donation anonymous, we recently started using Payconiq", Katrien adds.
"I joined the WSM team out of a desire to actively contribute to social change. The desire to contribute to a counterforce that dares to question the current economic and political trends. It has always been my wish to contribute to the fight against inequality and poverty through my job. I'd like that what I do can initiate changes, even if those changes are not always visible, but take place on the other side of the world."
What is visible to Katrien are the letters or encouraging messages from donors. "When they send us: 'keep up the good work, WSM, in solidarity, across borders!' That gives me genuine satisfaction. It's nice to hear how our donors want to build a fairer world together with us. Together we are setting a storm of change in motion. And such positive messages give us the courage and enthusiasm to continue."
Katrien learned how to do fundraising from her colleague, who is now responsible for relations with the structural donors. "I took the job and the knowledge she had and brought innovation to our approach. Over the years, I also followed various training courses. But I learned the tricks of the trade by doing."
Personal and peer-to-peer actions are the future
The actions that work best? "The personal actions work best, according to me. When people, out of personal indignation or motivation, convince their friends, family or network to make a donation in solidarity. What I like best are the actions of people who take on a physical or other challenges and allow themselves to be sponsored. Once, there was a teacher from West Flanders who was affected by the abuses in the clothing industry. He wanted to collect money for organisations that stand up for the rights of garment workers. After all, we wear clothes that they make. His challenge was original and received a lot of attention: in one day, he wanted to climb the Kemmelberg by bicycle as far as possible. He asked everyone he knew to encourage him with a donation. And it was a success. He set a personal record and managed to collect more than a thousand euros. Another fine success story is that of the sixteen travellers who travelled to Nepal at the end of 2019 and collected 2.000 euros each for that trip to support the work of trade unions in Nepal... It is actions like this, where people can convince their own network, that are the most successful. I see it as my job to assist, inform and encourage these people as much as possible. And because of the great success we are organising another Nepal Express in the Easter holidays of 2023."
Corona crisis made importance of the work of our partners even more clear
"Since the beginning of the corona crisis, we have felt that the flow of donations has been decreasing. This does not mean that there was no more solidarity. People showed their solidarity mainly to people nearby who were in trouble. The focus on international issues was somewhat obscured by the corona crisis. And it did not stop with the coronavirus. The flooding in the summer of 2021, the war in Ukraine: these are acute emergencies to which people, quite understandably, want to lend their support. Nevertheless, many donors continued to support our organisation faithfully. After all, WSM is committed to providing solid social protection for everyone, everywhere. And if there is one thing the corona crisis has made clear, it is this: without a social security system, so many more people would be in trouble... The corona crisis has made the importance of the work of our partners even more clear", Katrien indicates. "In present, we notice that the economic crisis is causing some reticence. Life is becoming more expensive. People fear for the future, the climate for giving is not favourable."
Be transparant: share success and setbacks
Katrien's main advice to fellow fundraisers? "Do not get discouraged. Some actions work well, others less so. Don't try to convince everyone, it won't work anyway. Opinions differ and there will always be people who disagree with your vision. Pull yourself up by the positive reactions and persevere. And furthermore: be transparent, show respect for your donors, tell stories about how things work, share the successes but also the setbacks. In processes of change, you sometimes have to take steps backwards."
Katrien aknowledges that all fundraisers face the same challenges and have the same goal: raising funds to make the world a better and more liveable place. "That's why I like getting the chance to connect with fellow fundraisers, through FAB. It is also nice to get inspiration from FAB via courses or to keep up with the latest trends via information sessions."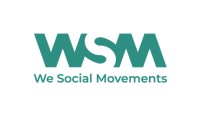 WSM, We Social Movements, works together with more than 80 social movements in over 20 countries in Africa, Asia and Latin America: trade unions, health organisations, micro-credit institutions, women's, youth and elderly organisations. They stand up for decent work and social protection and fight poverty and exclusion. How do they do this? They inform as many people as possible about their rights, so that they can claim them. They organise vocational training and grant small loans to entrepreneurs who want to start their own business, so that more people can live a more secure life. And they set up solidarity health funds, making health care decent and affordable for their members. They are changing the lives of individuals and communities. And by setting up these services, they challenge policy-makers to apply their models on a large scale. Linked together in strong networks, they enforce laws that can curb injustice, exploitation and corruption.

And that is necessary. Because worldwide, three out of four people cannot live in dignity, although they work really hard. Even more people have to get by when they are ill, unemployed or old. Decent work and social protection are not privileges, they are human rights.