18 August 2022
Joost Verbeke, responsible for donations and legacies at Natuurpunt, was one of the 8 fundraisers sharing his story during Santé Généreuse, the member event of FAB and testament.be in June. He explained the boost of memberships and donations since the start of the pandemic.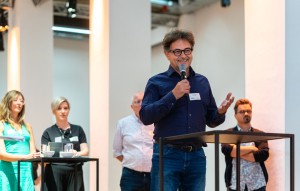 "Success in donations and memberships for Natuurpunt since corona is in my opinion due to the connection with the local nature. During the home working period, people went for a walk in their own neighbourhood and came across our signs that say: 'this is Natuurpunt's nature'. The fact that we are very close to the people, both with nature reserves and with the local volunteer work, is a unique fact. That is why people want to become a member of our association. They don't become a member to please us, but because in this way they contribute to the protection of nature in their neighbourhood. That protection is done by local volunteers, not by the head office of Natuurpunt. They buy the nature because that is the best way to protect it. And the head office is then asked to get grants/ subsidies, but these grants are only part of the price. So the other part has to be collected by the volunteers and of course they come to me for this, as I am the contact person for legacies and donations. All those regional departments need money to be able to buy areas and connect them to each other."
"Many people took up walking during lockdown. Natuurpunt made sure all those paths were mown before COVID, so people would not hurt themselves on thorns and thistles. Because then you get complaints. And ... that worked, because in 2020 and 2021, the membership increased by 8% each time. Around 133.000 families in Flanders are members of our association now. That is a huge increase without great effort, except taking good care of our areas. People have been able to see that the nature management we do really makes a difference. I suppose they then look us up when they get home and land on our website where it says in big letters: 'Become a member'. They then become members, then after a few months they get a very friendly begging letter. So that's how they have supported us to develop those nature reserves. We try as much as possible to bind people to Natuurpunt from the cradle to the grave", Joost said.
Link to local contacts for potential donors and legatees
"Before Corona, every week I received the details of a few people, possible legatees for Natuurpunt (who got to know us via testament.be or via our website). I then help these people. I guide them through the process of drawing up a will to take to the notary. But during covid it was not done to go and visit people who were often 80+ years old. So then I thought, I won't go there anymore, but I would rather involve the local community. I went to visit the volunteers from the local departments, especially those that have big ambitions, that want to connect nature reserves but don't have the money to do so. Then we went through the membership lists together and delicately invited the people with the right profile for an information meeting (at safe distance). And in this way, a kind of cooperation with the social environment arose that is actually much more sustainable than depending on a number of addresses from people that find us themselves."
Natuurpunt is an independent volunteer association with more than 133,000 members. They protect vulnerable and threatened nature in Flanders.
They manage more than 26,000 hectares of Flemish nature in 500 different nature reserves. The volunteers take the initiative: they purchase, manage and open up nature reserves. In doing so, they are assisted by professional teams.
Their social enterprise gives work to hundreds of workers who have a tough time in the traditional economy.
Foto: © Alexander Van Maele